As ou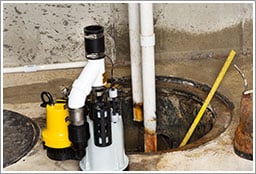 r Executive Claims Consultant, I frequently assist clients and insurance company partners with difficult and complex claims situations.
Recently, we encountered a situation on a homeowner's claim involving a sump pump back-up. To set the stage, this particular client had purchased a separate endorsement on their policy for back-ups of sewers and drains. The endorsement covers water damage associated with sewer and drain back-ups. (Click here to learn more about the importance of this endorsement.)
Due to the unique plumbing used for this particular sump pump, the back-up not only caused water damage in the basement around the sump, but on the exterior of the home as well. A pipe from the sump pump leading out of the house began to leak. That water landed on the ground, and then ran directly in through a basement window causing more damage to drywall.
The carrier paid for the damages from the water that backed up through the sump, but they denied the other damage as being caused by surface water. Surface water coming into your home is not covered by this endorsement. They said that once any water hit the ground, no matter it's source, it was considered surface water and damage caused by it was excluded.
Through a thorough investigation, I was able to determine that the exterior water damage was in fact due to the sump pump back-up. Due to our closer examination and review with the carrier, we were able to get that denial reversed and have the additional water damage covered.
Reviewing complex claims with our Business and Personal Insurance clients is a value added service that R&R is able to provide. With 20 years of claims experience, as well as a legal degree, I understand the importance of walking through difficult situations step-by-step to provide our clients the proper coverage.
Disclaimer:
Please note that R&R Insurance Services, Inc. is not a law firm. Brian Bean does not provide legal representation to clients of R&R Insurance Services, Inc., or to R&R Insurance Services, Inc.