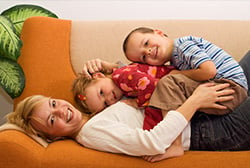 Held each September, Life Insurance Awareness Month is an industry-wide effort that is coordinated by the nonprofit LIFE Foundation. The campaign was created in response to growing concern about the large number of Americans who lack adequate life insurance protection.
Roughly 70 million adult Americans have no life insurance, and 11 million households with children under 18 have not life insurance. To top that off, most of those who dohave life insurance have far less coverage than most financial experts recommend.
For more information on life insurance, visit LIFE's website at www.lifehappens.org. In addition, they have a very cool mosaic going on with "Insure Your Love" that is worth a look!
Two main reasons for taking care of life insurance when you are younger:
You are just that - younger! Premiums are based on age and health - take advantage of your youth
You are healthier - again - take advantage of that
Most mid-life people I know really regret not taking care of their life insurance when they were younger. If they had, they would have saved themselves a lot of money!
For more information about life insurance, estate planning, business continuation and annuities, contact knowledgebroker Tom Driscoll.