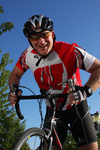 R&R's own Riley Enright has a featured article in the Milwaukee Business Journal as a sales executive with an active and healthy lifestyle.
"I've always been considered a fairly energetic individual." Anyone who has worked with Riley know that truer words were never spoken! Riley's active lifestyle outside of the office has been a great example when speaking with clients about their own wellness initiatives: "to best explain it, to best understand it - live it."
After growing up in a family of 10, fitness and being active has always been a part of Riley's lifestyle. As an adult, what had started as a few casual bike rides has now grown in to biking three days a week, with 50- to 60-mile weekend rides, plus running and adding tennis in to his regular routine.
Not only is Riley riding for his own well-being, but he also rides for charity. The Firehouse 50 in Cable, WI is one of the largest and oldest citizen races in the Midwest and raises money for the Grand View Fire Department. And in an effort to raise money for the Bryon Riesch Paralysis Foundation, Riley rides from Door County to Milwaukee.
Great job, Riley!