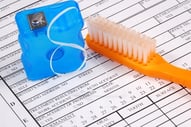 In CNA Insurance's 2016 "Claim Report", they recap the statistics behind dental claims for the year. Below are a few that stuck out to me - all the more reason that we make sure your Practice is properly covered.
The average indemnity paid for general practitioners was $83,120
The average indemnity payment for specialists was $125,651; excluding oral surgeons the average was $98,626
The top 4 procedures associated with claims are root canals, surgical extractions, surgical placement of implants and crowns
23% of closed claims allege treatment failure, resulting in a total paid indemnity of $17,892,090
Dentists who participated in the risk management education programs had claim costs 20% below the overall average.