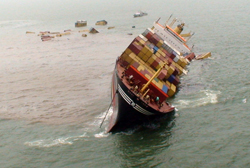 A recent survey indicates that a significant percentage of companies were affected by supply chain disruption over the last 12 months. In the survey sponsored by Zurich Financial Services Group and conducted by the Business Continuity Institute (BCI), 85% of companies say they experienced at least one supply chain disruption.
Adverse weather was cited as the main cause of disruption by 51% of respondents. Weather was also a prominent cause of disruption in a similar survey last year. Some of the other findings from the article are listed below.
The earthquakes and tsunami experienced in Japan and New Zealand this year, affected 20 percent of responding organizations, which were headquartered in 18 different countries.
Cyber attacks became a top three source of disruption in the financial services sector.
Supply chain incidents led to a loss of productivity for almost half of businesses along with increased cost of working— 38% of respondents—and loss of revenue—32% of respondents.
Longer term consequences of disruption in the supply chain included shareholder concern, 19% of respondents, damage to reputation—17%—and expected increases in regulatory scrutiny—11%.
For 17% of respondents the financial costs of the largest single incident totaled a million or more Euros. This figure almost doubles to 32% where less resilient supply chains are evident in the research.
Loss of talent or skills rose from 14th place in 2010 survey to 6th place in 2011. This represents a warning that lay-offs among supply chain partners is leading to increased disruption, the report says.
Seventy-four percent of respondents either strongly agreed or somewhat agreed with the proposition that outsourcing and just-in-time/lean strategies were making their organizations more vulnerable to supply chain disruption.
If you have questions on how to evaluate your business income exposure including evaluation of dependent properties, interdependencies between locations, and how to develop an adequate limit, please contact Scott Brookes. I have taught courses in business income including how to evaluate your exposures, develop a limit, and possible risk management solutions to minimize the exposure.