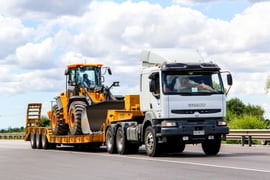 Without inland marine coverage, your business's personal property is not covered if it is being transported off site. A business's personal property can include: machinery, equipment, stock, leased property, furniture, and any other property owned and used by the business.
For example, if you are a contractor and you transport tools and equipment between the workplace and job site, you will need an inland marine policy that covers contractor equipment. Or, if you are a photographer and shoot on location, the photography equipment will need to be covered on an inland marine form. Basically, if you use equipment that does not stay at your premises, you may need to include it on an inland marine policy.
A business auto policy covers your vehicles, but what about mobile equipment such as a cherry picker, bulldozer, or even a golf cart? If you have mobile equipment that is not subject to compulsory insurance laws and used off public roads, it is not considered an auto. Therefore, you will need to insure that liability under your general liability policy and also insure it on an inland marine policy to cover any physical damage.
How can you determine what to insure? Keep your agent informed. Let us at R&R know what you need insured and what you use it for. We will make sure that all your property has the appropriate coverage.
For more coverage information, contact a knowledge broker.