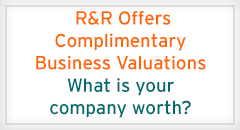 If you retired, died, or became disabled yesterday, who would own and manage your business today? Would you want your business interest retained for a family, sold, or liquidated?
The buy-sell agreement controls what happens to the company stock upon the occurrence of a triggering event such as the death, retirement, or disability of a shareholder. A buy-sell agreement is the center of a business continuation plan. A buy-sell agreement is a contractual agreement between shareholders and their corporation or between a shareholder and the other shareholders of the corporation. Partner and LLC Members can also have a buy-sell agreement.
Important note: R&R offers free business valuation plans as a complimentary service to any business owner wanting more information about their business and how to ensure it's longevity.
Advantages to Buy-Sell Agreements:
To the shareholders:
Determines how the ownership will flow upon the death of a shareholder
Eliminates potential conflicts with the heirs
Can fix a sale price or establish a formula for the shares
To the family:
Provides a guaranteed market for the business interest
Provides liquidity for estate taxes
Can fix a value or establish a formula for IRS valuation
Types of Buy Sell Agreements:
Cross purchase
Entity purchase or stock redemption
Wait and see plan