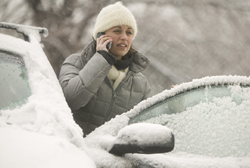 Even Wisconsin residents used to winter's cold and freezing temperatures can benefit from a few winterization tips. Here are 10 simple ways to get your car ready for winter and stay safe.
Get the right kind of oil change.
Replace your windshield wiper blades so you can see clearly.
Give your battery a little TLC. Make sure your battery's posts and connections are corrosion-free and that your battery has all the water it needs.
Examine your belts and hoses for wear & tear.
Check your tire pressure.
Think about switching to snow tires.
Check the status of your four-wheel-drive system and be sure it's working correctly.
Get the antifreeze mixture just right. It should be a 50-50 mix of antifreeze (coolant) and water inside your radiator.
Prepare an emergency kit and store it in your trunk during the winter months.
Know what to do if you get stranded. Don't wander away from your car unless you're completely sure about where you are and how far away help is.
Wisconsin residents, contact knowledgebroker Kori Cumley for money-savings tips on personal insurance or a quick quote on home and auto insurance.