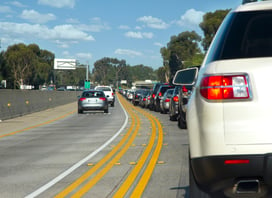 In the midst of summer, many of us are spending long weekends in the car. Whether we're traveling a few hundred miles up north, or a few thousand miles down south, we're probably all looking for a distraction during the drive. While cell phones can provide great entertainment, it's important to remember the laws surrounding their use in vehicles. Below is an update on what is currently prohibited in Wisconsin:
Text messaging outlawed for all drivers. Fines from $20 to $400 with a possible 4 points against the driver's license. Primary enforcement.
Drivers with restricted licenses prohibited from using cell phones.
Drivers may not watch devices within vehicle providing entertainment through "primarily visual means."
Drivers prohibited from using handheld cell phones in construction zones. Takes effect Oct. 1, 2016.
The state outlaws distracted driving, or "being so engaged or occupied as to interfere with the safe driving of that vehicle." The fine is $173 and 4 points.
Click here to learn more about these laws and the fines associated with them. We hope you have a happy, safe and enjoyable summer with family and friends!
Contact a Knowledge Broker for more information.