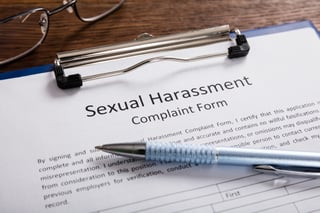 Harvey Weinstein, Roger Ailes, Charlie Rose, Mike Cagney, David Guillod, Michael Oreskes and the growing list of executive sexual harassment scandals have dominated headline news over the past few months. The rising awareness of workplace misconduct, in an increasingly litigious society, may have employers quaking at the cost of defense. Regardless in size of the company, every business should consider putting the proper coverage in place to respond to this type of event.
Management fearful of costs associated with allegations ranging from sexual harassment to retaliation would best find relief with proper employment practice liability insurance (EPLI).
EPLI Overview
For most businesses, EPLI would not rank highest on a list of insurances to obtain such as general liability, property & casualty, and workers' compensation. That said, EPLI should be an enticing insurance since, by a wide margin, it is the least expensive of the aforementioned.
EPLI coverage can be summed up as settlements, judgements, and the defense costs associated with claims against improper acts in the employment process. Common claims include harassment, defamation, discrimination, a hostile work environment, breach of contract, emotional distress, wrongful termination, and denial of career opportunity.
Not all EPLI polices are the same and it is best to discuss with your agent the proper coverage. One difference is the way policies may respond to 3rd party claims.
Many EPL policies will only cover 1st party claims. These are claims made by your employees or independent contractors. John Doe claiming wrongful termination would be covered in this scenario, but a customer receiving a harassing comment from your staff would be excluded from the policy. In short, if you deal with vendors, clients, or anyone from outside your organization, you have a 3rd party exposure. Certain classes of business are at a greater risk - think restaurants, bars, and retail.
To address this exposure, make sure your EPLI carrier includes 3rd party claims. In this scenario the company would also have coverage with vendors, customers, service providers, or business invitees.
A comprehensive summary of the legal environment and coverage practices of EPLI can be seen for free in R&R Insurance's Employer's Practices Liability Insurance by Brian Bean. The 80 minute video is an excellent introduction for the information seeking executive wearing many hats.
EPLI Increasing Need
The elephant in the room is increased media attention around sexual harassment. Every day it seems a new celebrity or high profile executive has an allegation brought forth. A cursory glance at the trending #MeToo on Twitter would suggest a growing movement to callout organizational harassment of women.
EPLI not only mitigates sexual harassment risk, but a wide range of trending risk in the employment process.
In the last 20 years America has seen a 12% uptick in individual charge filings with the Federal Equal Employment Opportunity Commission. While Race and Sex discrimination make up the majority of cases, they have only risen slightly in number going year by year. The largest percentage increase in discrimination cases since 1997 have been Age (24% increase), Disability (36% increase), Religion (55% increase), and Retaliation (57% increase).
It may be surprising that 41.5% of these complaints were filed against companies with less than 100 employees – and these numbers only count filings at a federal level.
Media attention and rising awareness should be a major concern for a business lacking proper EPLI coverage. Its cost, relative to other business insurance, is low and mitigates a financially disastrous risk to the company. Executives would do well to, at the very least, inquire about the proper EPLI coverage from their agent.
This effort should be combined with proactive harassment training for your employees along with and proper procedures to respond to a claim situation.