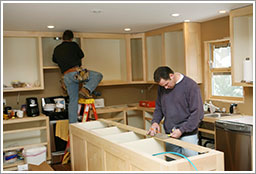 With summer coming to an end and fall creeping in, most of us are planning to hunker in for the cold weather. For many, this becomes the perfect time to start a home renovation or home improvement project. According to Statistic Brain, in the next two years 26% of homeowners plan a bathroom renovation or addition and 22% plan a kitchen renovation or addition.
If you are planning to be a part of that percentage, we highly recommend keeping these tips in mind:
Consider how the renovation will impact the value of your home. Do you need to update your property insurance? With large increases to the value of your home, it's important to be sure your insurance agent is aware.
When working with a contractor, be sure to get referrals from family and friends. Do you trust the person you'll be inviting into your home day after day? Do they have a clean track record?
Check out the Better Business Bureau for additional contractor and subcontractor references. This is a great way to avoid surprises and ensure you're happy with the quality of work at the end of the project.
Make sure your contractor provides proof of insurance. Ask to see their certificates and be sure that coverage will be in effect the entire time the work is being done. This will cover any damages, injuries, etc. that may occur.
Contact your knowledge broker at R&R prior to signing any contracts. Not keeping your insurance agent informed may leave you with claims that are not covered. At R&R, we are more than happy to walk you through contracts and answer any questions you may have before signing the dotted line.
Home improvements and renovations are an exciting time for any homeowner! Be sure to keep these tips in mind, or contact a knowledge broker for more information.