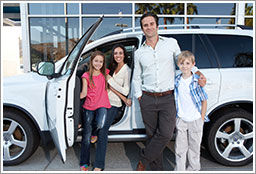 The advancements in car safety features over the last few years have been tremendous. From automated braking and back-up cameras, to alert systems and running lights, "car safety" has taken on a whole new meaning.
While the majority of these features can be life-saving, they also offer a great deal of cost savings as well. Many insurance companies offer discounts to drivers whose vehicles are equipped with certain safety features. The USAA provides insight into a few of the most common features available:
Back-Up Camera. Once a luxury vehicle standard, the backup camera often displayed in the rearview mirrors or in-dash display is now a popular option on midrange cars, giving drivers assurance when backing out of a parking spot or down a driveway.
Automatic braking. If the driver doesn't respond to the warning, some systems are able to brake automatically to prevent a collision or lessen the impact. Systems that combine forward-collision warning and auto-brake are the most effective.
Adaptive headlights. This innovative technology, which allows drivers to see better as they round a curve, surprised researchers with how well it performed. According to Highway Loss Data Institute research, property damage liability claims fell as much as 10 percent with adaptive headlights.
Sideview assist. Sensors can detect a car in your blind spot and then alert you with a light in your side mirror or with a beep if you engage your turn signal.
Forward collision avoidance system. Using the same forward-looking sensors, these pre-crash warning systems alert drivers with visual or auditory cues when the vehicle is getting too close to the one in front.
To learn more about car safety features or to find out how they can positively impact your auto insurance, contact one of our knowledge brokers.