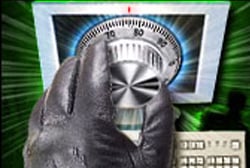 In preparation for a recent seminar I presented, I came across this great article regarding corporate data breaches and the costly ramifications by Tim Wilson of Dark Reading. Everything's more expensive these days -- and experiencing a major corporate data breach is no exception.
2010 Annual Study: U.S. Cost of a Data Breach reveals that the average organizational cost of a data breach increased to $7.2 million and cost companies an average of $214 per compromised record. The sixth annual Ponemon Cost of a Data Breach report is based on the actual data breach experiences of 51 U.S. companies from 15 different industry sectors.
Interestingly, companies who responded quickly to data breaches ended up paying 54% more per record than companies that moved more slowly, according to the study. 43% of companies notified victims within one month of discovering the breach, up seven points from 2009. In 2010, these quick responders had a per-record cost of $268, up 22% from 2009; companies that took longer paid $174 per record, down 11%.
Malicious or criminal attacks are the most expensive breaches, the study says, and are on the rise. In this year's study, 31% of all cases involved a malicious or criminal act -- up seven points from 2009 --and the cost of these compromises averaged $318 per record, up 43% from 2009.
While external breaches are on the increase, negligence remains the most common threat, Ponemon says. The number of breaches caused by negligence edged up one point to 41% and averaged $196 per record, up 27% from 2009.
System failure dropped nine points to 27% in 2010. "This trend indicates organizations may be more conscientious in ensuring their systems can prevent and mitigate breaches through new security technologies and compliance with security policies and regulations," Ponemon says.
Encryption and other technologies are gaining ground as post-breach remedies, but training and awareness programs remain the most popular, the study says. 63% of respondents use training and awareness programs after data breaches, down four points from 2009. Encryption is the second-most implemented preventive measure as a result of a data breach, with 61%. Both encryption and data loss prevention (DLP) solutions have increased 17% since 2008.
The study takes into account a wide range of business costs, including expense outlays for detection, escalation, notification, and after-the-fact (ex-post) response. The study also analyzes the economic impact of lost or diminished customer trust and confidence as measured by customer churn or turnover rates.
"Churn is still the highest cost that we see," Ponemon said. "There's an attitude out there that users no longer care about their privacy as much, but our data shows that they really do."
The U.S. Cost of a Data Breach Study was derived from a detailed analysis of 51 data breach cases with a range of nearly 4,200 to 105,000 affected records. The study found there is a positive correlation between the number of records lost and the cost of an incident. Companies analyzed were from 15 different industries.
For more information on how to protect your company against the cost of a data breach or anything regarding cyber liability, contact a knowledgebroker.