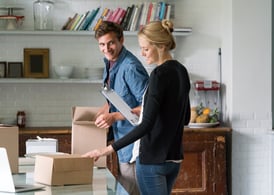 If someone asked you to create a list of every possession in your home today, how many items do you think you'd remember? Think about just one room. Can you envision what's in every drawer, hanging on each wall, or sitting on the shelves?
Under the unfortunate circumstance your home is destroyed, your insurance company will ask for a complete home inventory. Your current insurance contract most likely reads something along the lines of: "Prepare an inventory of damaged personal property showing the quantity, description, actual cash value and amount of loss. Attach all bills, receipts and related documents that justify the figures in the inventory." In order for you to receive payment to buy new items, you will be required to complete a home inventory.
Home inventories can be completed in the form of a printed list, through photos and video, or even digitally via apps. West Bend Mutual provides the following checklist to help you through the process:
The more detailed your inventory, the better. That being said, don't make it too complicated. An easy way to do a home inventory is go from room to room, photographing or videotaping the contents of each room, then jotting down descriptions and details. Don't forget your closets, cupboards, and drawers. And be sure to include the basement and garage.
Your inventory should have:

Brand names and serial numbers of products;
Digital photographs, preferably stored on a disc or flash drive; and
Receipts. If you don't save receipts, it's a good time to start.
More expensive items like jewelry, collections, furs, and other valuables are limited in the amount covered. If the value of these kinds of items exceeds the limits, be sure to insure them separately. You may need appraisals to do this. Once you have an inventory and appraisals, store them in a safe deposit box away from home.
Keep your inventory current. Update it every year, especially if you buy, sell, or give away items. Failing to keep your inventory updated could result in not enough (or too much) insurance coverage.
Once you've got your inventory (whatever form it takes), make sure to protect it. Store it in a safety deposit box, in a strong safe or lockbox, on a cloud storage service, at work, or with a friend. Just make sure it'll survive if there's ever major damage to your home. Remember that's what it's there for!
Having your home inventory complete prior to a loss is highly recommended. The devastation of losing your home and possessions is unthinkable and can cause an incredible amount of stress in itself. Ideally you'll never need to file a homeowner's insurance claim. However, an updated inventory can make the process faster and easier, and help you get the most from your insurance. It also provides you with peace of mind, knowing all of your possessions will be accounted for.
Contact a KnowledgeBroker for more information.