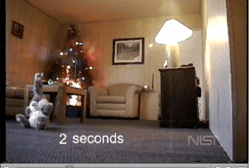 An estimated 30 million natural Christmas trees are sold anually in the United States. The National Fire Protection Association (NFPA) reports that there is an estimated annual average of 210 home structure fires that begin with Christmas trees. Based on data from 2002 through 2005, these fires caused an average of 24 civilian deaths, 27 civilian injuries, and $13.3 million in direct property damage per year.
Forty-nine percent of Christmas tree fires spread beyond the room of origin.
The moisture content of each tree can play a dominant role in determining the fire hazard each tree represents. Properly maintaining a cut Christmas tree is important to retaining a high moisture content in the needles of the tree to limit accidental ignition and prevent rapid flame spread. A tree which has dry needles can readily ignite with a flaming source and generate heat release rates that are capable of causing flashover in residential scale rooms. Trees that have been watered properly, and maintain pliable, green needles are harder to ignite than dry trees with needles that break easily when bent and fall from the tree when the branches are shaken.
In addition to keeping the tree extremely moist by watering daily, The American Red Cross offers these common-sense tips to avoid holiday fires:
Decorate Christmas trees only with laboratory-approved lights
Unplug Christmas tree lights when leaving home or going to bed
Do not decorate metal trees with lights
Do not decorate trees with candles
Keep candles away from decorations and other combustible material
Place trees away from heat sources and exits
Make sure chimneys are inspected before the holidays and cleaned if necessary
Keep space heaters at least three feet away from bedding, clothing, furniture, drapes and anything else combustible. Use equipment that is approved for indoor use. Turn space heaters off if you are not available to monitor this equipment. Remember, children anywhere near space heaters must be supervised at all times.
Christmas trees that glitter with lights and tinsel symbolize the joyous spirit of the holiday season, but we must not forget the potential fire hazards that can be a tragic part of this time of celebration. Wisconsin residents, contact knowledgebroker Kori Cumley for fire safety tips or a quick quote on home and auto insurance.