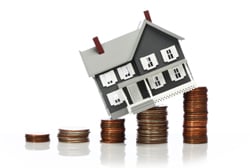 Let's face it, we're all looking for ways to trim our expenses. Here are 12 ways to make sure that the value you are getting from your homeowners policy is real, and to ensure that you aren't paying more than you need to.
Raise your deductible
Deductibles are the amount of money you have to pay toward a loss before your insurance company starts to pay a claim, according to the terms of your policy. The higher your deductible, the more money you can save on your premiums. Most insurance companies recommend a deductible of at least $500. If you can afford to raise your deductible to $1,000, you may save as much as 25%.
Insure for replacement cost, not market value
The housing market has dropped significantly, but that doesn't mean the cost to rebuild your home has dropped as well. Insurance companies insure homes based on the amount it would cost to rebuild, including debris removal, architect fees, etc., not the assessed value of the home. In today's economy, these two values can be drastically different. It is important to make sure your home is insured based on replacement cost, and that it does not include the cost of land.
Package your home & auto policies together
Some companies that sell homeowners, auto and umbrella coverage will take 5 to 15 percent off your premium if you buy two or more policies from them. Luckily, R&R Insurance represents numerous companies that do just that!
Newer/updated homes may be eligible for discounts
Find out from your insurance agent what steps you can take to make your home more resistant to windstorms and other natural disasters. You may be eligible for premium discounts if your home is constructed with fortified home materials, such as

HardiePlank

siding, or has an impact resistant roof.
Improve your home security
Some companies offer to cut your premium if you have a sophisticated sprinkler system and a fire and burglar alarm that rings at the police, fire or other monitoring stations. If you have a security system, be sure to mention it to your insurance agent as the discount for security systems average anywhere from 10-25% of the home premium.
Maintain a good credit record
Establishing a solid credit history can cut your insurance costs. Insurers are increasingly using credit information to price insurance policies. Check your credit record on a regular basis and have any errors corrected promptly so that your record remains accurate. More about insurance scoring...
Stay with the same insurer
If you've kept your coverage with a company for several years, you may receive a special discount for being a long-term policyholder. Some insurers will reduce their premiums by 5 percent if you stay with them for three to five years and by 10 percent if you remain a policyholder for six years or more.
Review the value of your scheduled items and rec vehicles at least once a year


You want your policy to cover any major purchases or additions to your home. But you don't want to spend money for coverage you don't need. For example, if your five-year-old fur coat is no longer worth the $5,000 you paid for it, you'll want to reduce the amount on your insurance policy. Rec vehicles and watercraft also tend to depreciate with age; be sure to check with a reputable dealer or other on-line valuation service to ensure you are not over insured.

Buy a longer policy
There may be a price penalty attached to 3- or 6-month policies, so the longer your policy term, the cheaper your rates will likely be. Regardless of the length of your policy, you may be able to avoid installment fees and save money by paying it in full instead of in monthly installments. If installments are the only affordable option, you may be able to avoid fees by having your premiums automatically deducted from your bank account each month.
When you're buying a home...Location Location Location
You may pay less for insurance if you buy a house close to a fire hydrant or in a community that has a professional rather than a volunteer fire department.
You could be eligible for a discount between 5 -10% depending on the age and location of your electrical, heating & plumbing systems


If your single family home or condo is less than 30 years old, or if your home mechanics have been upgraded during that time, you may qualify for an elite home program with some insurance companies. This could save you up to 10% on your yearly premium.

Reduce your auto coverage to comprehensive only during winter months


If you have vehicles that you do not use during the winter months or for long periods of time during the year, you can save some money by removing the liability from them while they are idly stored. By carrying

comprehensive only during these times, your vehicle is still covered for things like theft, fire, vandalism, etc. Your liability coverage can be added back on when you decide to use the vehicle again.
Wisconsin residents, be sure to contact knowledgebroker, Brandy Enger, for the best valued personal lines insurance in Wisconsin!