There are two significant trends with today's modern work force: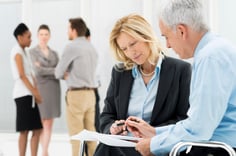 Employees are working longer and retiring at a later age

Each day, there are over 10,000 Americans reaching age 65 and becoming eligible for Medicare
At R&R Insurance Services we continue to provide our Medicare counseling services to the employees and dependents of our clients to understand their insurance options. All too often an employee overlooks their Medicare eligibility if they elect to work beyond age 65. However, this may not be their best insurance option when you factor in their cost of insurance (employee contribution) and the plan deductible.
With most employers embracing a high deductible health plan, employees or dependents of employees who reach age 65 can exercise their option to enroll into Medicare and waive the employer's group medical plan. Often the cost to elect Medicare Part B and a corresponding private supplement or Advantage plan can result in a medical plan with a $0 deductible and lower direct premium costs.
Our health insurance experts are ready to help you with your needs. Click here to meet our team.