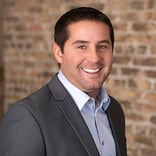 Waukesha, WI – It is with great pleasure to announce Tom McInerny has been named R&R Insurance's newest Vice President of Commercial Sales.
Tom has been with R&R Insurance for five years as one of our leading Commercial Insurance Consultants. He has been diligent bringing on new clients and retained his clientele. Nearly every year he has been with the agency Tom has been a top contender for Producer of the Year.
In his new role, Tom will lead his team in creating partnerships within businesses across the state. He will continue to help clients with his proactive risk management services while sharing his knowledge, experience and best practices with other Commercial Insurance Consultants.
A native of New Berlin, Wisconsin, Tom received his Bachelor of Science degree in Business Administration from Loras College. Prior to R&R, Tom worked for a national distributor in the water and sewer industry. Outside of R&R, Tom serves on the Catholic Memorial High School Board of Directors.
"As a Sales Consultant Tom displayed many client focused attributes that allowed him to meet and exceed buyer expectations," states Frank Maurer, Executive Vice President, R&R Insurance. "His client focused Risk Management knowledge allowed him to diagnose how to help his prospects/clients as he became an excellent solution provider. His communication skills created a tremendous relationship with his clients and helped to exceed customer expectations. We are confident Tom will utilize his many positive traits to help lead a team of Consultants to become the next generation of professionals here at R&R. The career is a journey and one that is never ending. Tom's talents fit the requirement for continued growth and development."