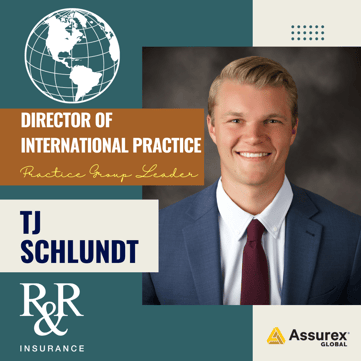 Waukesha, WI – R&R Insurance is thrilled to announce the appointment of TJ Schlundt as the new "Director of International Practice," a landmark addition to our Commercial Lines team.
TJ Schlundt, a seasoned Commercial Insurance Consultant, has shown exceptional skill and dedication in his role, working closely with Assurex Global and its numerous agencies worldwide. His extensive experience and deep understanding of international insurance practices make him the ideal candidate for this newly created position.
In his new role, TJ will manage R&R's internal International Practice Group. The practice group acts as a hub for the collective knowledge of the R&R team on various international Commercial Lines coverages and nuances. Additionally, TJ will act as the primary liaison between R&R Insurance and our international partners at Assurex Global, fostering and strengthening relationships with agencies across the globe. His expertise will be instrumental in navigating the complexities of international insurance markets, ensuring that R&R Insurance maintains its reputation for excellence and innovation on a global scale.
TJ Schlundt's appointment as Director of International Practice marks a significant milestone for R&R Insurance as the company continues to expand its global presence and reinforce its commitment to providing top-tier insurance services worldwide.