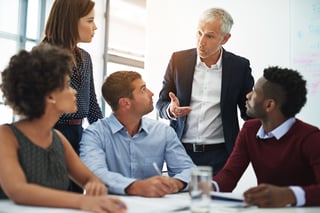 According to a report from the Healthcare Performance Management Institute, on average, $2.59/hour or 8% of a worker's total compensation is connected to employee benefits and wellness programs. Because employers dedicate a significant amount of money to these programs, it only seems natural to devote time to ensure the benefits are utilized effectively in order to get the best value for their investment.
While a true ROI or dollar figure isn't clear cut, research has reinforced the ideas that with improved health decreases employee absenteeism, improves culture and attitude, and increases productivity.
If employers want a sustained health management program, they should keep in mind and acknowledge the following items:
Employees want choices. They need to feel that the employer is interested in their health and wellness for the right reasons - not just trying to steer them toward the lowest cost option. Trust is essential.
Employees want to be included. Consider engaging an insurance and/or wellness committee. Peer buy-in is crucial.
Like all healthy/effective relationships, clear communication is a must. Without effective communication no program will succeed long-term.

Customize the materials.

Target the programs.

Understand the employees readiness to change. If they don't want to change a lifestyle habit, it may not be cost effective to pursue that topic with the employee. Focus efforts where you can make an impact.

Address the barriers and concerns employees may have. Don't ignore or sweep them under the rug. Be straightforward and honest.

Make the financial incentive or disincentive easy to understand - no hidden agendas.

Predictive analytics and profiling should be used to guide decisions on programming.

Involve spouses in the education and wellness programming to increase success.
Diabetes, heart disease, high blood pressure, and high cholesterol are the typical chronic conditions for employees. Similarly, the desire for improved nutrition, increased physical activity, and decreased stress are the big "wants" from employees. The tough part is following the strategic steps to engage the employees and get their buy-in and support. Only then will employers truly make an impact on the cost. It may be a culture shift for some employers.
Here at R&R Insurance, we can assist you in finding the right Knowledge Broker to help navigate this process. Click here to contact us.