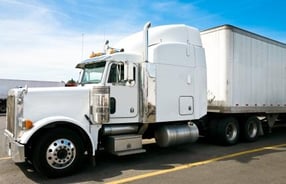 The Federal Motor Carrier Safety Administration (FMCSA) implemented the new Electronic Logging Device Rule to help create a safer work environment for drivers and make it easier and faster to accurately track, manage, and share data.
An Electronic Logging Device (ELD) is technology that automatically records a driver's driving time and other hours-of-service (HOS) data. This allows easier, more accurate HOS recordkeeping. An ELD monitors a vehicle's engine to capture data on whether the engine is running, whether the vehicle is moving, miles driven, and duration of engine operation (engine hours) as well as the date, time, and vehicle location information.
By December 18, 2017, all carriers and drivers subject to the ELD rule must use either an ELD or an automatic on-board recording device (AOBRD) that is compliant with existing regulations. AOBRDs may be used until December 16, 2019, if the devices were put into use before December 18, 2017. Starting December 16, 2019, all carriers and drivers subject to the rule must use ELDs.
The ELD Rule applies to most motor carriers and drivers who are required to keep records of duty status (RODS). This includes trucks, as well as commercial busses. It also applies to drivers domiciled in Canada and Mexico, unless they qualify for an exception to the rule.
The ELD Rule does allow limited exceptions to the ELD mandate, which include:
Drivers who operate under the short-haul exceptions may continue using timecards; they are not required to keep RODS and will not be required to use ELDs
Drivers who use paper RODS for not more than 8 days out of every 30-day period
Drivers who conduct drive-away-tow-away operations, in which the vehicle being driven is the commodity being delivered
Drivers of vehicles manufactured before 2000
Beginning on December 18, 2017, a driver using an ELD must have an ELD information packet onboard the commercial motor vehicle (CMV) containing the following items:
A user's manual for the driver describing how to operate the ELD
An instruction sheet describing the data transfer mechanisms supported by the ELD and step-by-step instructions to produce and transfer the driver's hours-of-service records to an authorized safety official
An instruction sheet for the driver describing ELD malfunction reporting requirements and recordkeeping procedures during ELD malfunctions
A supply of blank driver's records of duty status (RODS) graph-grids sufficient to record the driver's duty status and other related information for a minimum of 8 days
Many fleets may be waiting for the mandate deadline before implementing ELDs, but by waiting, drivers are missing out on a number of immediate benefits such as:
Avoiding driver harassment
Saving time by reducing paperwork
Keeping a dispatcher up-to-date on a driver's status and letting them plan for loads better in light of HOS compliance needs
Lessening driver responsibilies so they can focus more on driving and safety
In addition, many systems integrate map and route solutions which can help drivers navigate around construction and avoid high-traffic areas which saves time and brings down fuel costs
Contact a Knowledgebroker at R&R or visit the Frequently Asked Questions page on the FMCSA website for complete information about the ELD Rule.