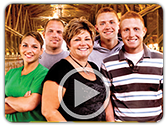 As a third-generation dairy farmer, Paul Krzewina's priority was keeping his 585-acre farm in the family. But doing that meant modernizing, and Paul needed to take out a mortgage to build new barns and buy additional cows. He was concerned, though, that the mortgage would be a burden to his wife, Michele, and their four young children if something were to happen to him.
When Paul was diagnosed with a brain tumor three years later, the life insurance proved invaluable. He was able to use a loan against his policy's cash values to pay his health insurance deductible. In addition, Paul didn't have to worry about keeping his policy in force because of a provision that waived his premiums in the event of a disability. More on Michele and Paul's story and how life insurance enabled the family to save the farm!
Paul died in 2010, but his dreams for his family are very much alive today. His eldest son, Chad, 28, now runs the farm, and used part of the death benefit to add new barns, including a maternity barn. He plans to expand the operation to 500 cows, from the current 200. Michele works on the farm, too, though in the warmer months her attention is on her ice cream restaurant, The Iceburg. "We couldn't have done any of these things without the insurance money," Michele says.
For more information about life insurance, estate planning and mortgage protection, contact knowledgebroker Tom Driscoll.