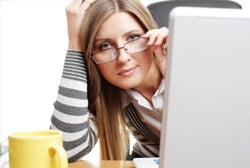 If you're starting your own business - Good for you! It's a big leap of faith and can often times be a big hit on your pocket book. If you're leaving a full-time employer to make this move, chances are you are also walking away from your health insurance coverage - or some form of it anyway. For those that have health insurance currently, but are making the move, here are some suggestions that will help you either find health insurance or try to extend what you've got for the first year or so.
How to Get or Keep Health Insurance if You Are Self Employed
Enroll on spouse's plan
If you have an insured spouse that has health insurance, this is probably your most affordable option. On average, workers pay $4,129 toward their annual health insurance premiums. This averages to $344 a month. You'll be hard pressed to find individual health insurance for that price. (Younger workers are taking a huge increase with reform, and older workers, well, they are more risky - so your age may not get you a better price in the new age of reform).
COBRA Extension
Under the COBRA (Consolidated Omnibus Budget Reconciliation Act), employers are required by federal law to offer COBRA extensions for health and dental coverage up to 18 months for you an your dependents when you leave your job. Drawback: It's really expensive. If you have planning time before you leave, consider dropping to the lowest cost plan your company offers - when the enrollment period allows. This will at least get you a lower monthly COBRA payment.
Purchase your own policy
Be leery of websites that offer you dozens of quotes for affordable health care insurance. Sure you'll get some numbers - sometimes too many numbers. But once they have your information, you'll be hounded by a plethora of independent insurance agents all clambering for the same piece of business - yours! Health insurance rates are set by the federal government - so no one company is going to be different than the other - the real difference is service from an independent agent. An independent agent can provide free quotes and handle all of the shopping for some of the best choices and value in health care coverage. An independent agent knows the marketplace, knows the product, knows the carriers and most of all will get to know you and your needs, and protect you - that's their job. See 5 Mistakes to Avoid When Buying Individual Health Insurance and 7 tips on How To Pick The Best Individual Health Insurance Coverage.
Join a professional organization that offers a health insurance benefit
Some professional and trade associations offer health insurance with group coverage rates. If you are over 55, consider AARP.org. The National Association for the Self Employed offers insurance plans as well. Chambers of commerce or business alliances can often have a consortium offering for health care insurance too - check with your local chamber of commerce for their options.
Opt to hire one person - making your own small group
Because individual insurance is fairly expensive, some self employed people have opted to hire an additional employee to qualify them as a small business. Most independent agents like R&R Insurance can offer group premiums with 2 or more employees - this could make a significant difference in your monthly cost.
Stay employed
Probably the least desirable for someone with an entrepreneurial spirit, but the suggestion to stay employed is worth mentioning. Stay employed either with your current company or with a company that offers health insurance coverage for the minimum number of hours a week - most often times its 30 hours a week. This keeps your pocket book in line, continues coverage for your family and gives you more time to chase your dream - although a little more slowly.
For more information on insurance for self employed individuals please visit our website. R&R Insurance Services is an independent insurance agency serving all of Wisconsin. We offer businesses and families access to affordable insurance coverage with excellent 24/7 service. For more information on individual health care plans contact knowledgebroker Donna Wahl.
Related articles: