HRA's and HSA's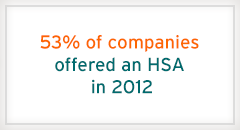 Employers are increasingly looking to consumer-driven health plans to help soften the blow of continually rising health care costs. Depending on the model, some plans allow employees to use HSA's or HRA's to pay for medical expenses that are not covered by insurance.
Comparing HSA's and HRA's: which is best for your company?*
HSA
HRA
Name of Account
Health Savings Account
Health Reimbursement Arrangement
Who owns the account?
Individual / employee
Employer
Who may fund the account?
Employer or employee can contribute pre-tax dollars
Employer
Is there a limit on the amount that can be contributed per year?
Individual & Family Limits
(As reported by the IRS)
No, there is no IRS prescribed limit
Can unused funds be rolled over from year to year?
Yes
Yes, subject to COBRA
What expenses are eligible for reimbursement?

COBRA premiums
QLTC premiums
Health premiums while receiving unemployment benefits
If Medicare eligible due to age, health insurance premiums except medical supplement policies

Health insurance premiums for current employees, retirees, and qualified beneficiaries, and QLTC premiums
Employer can define "eligible medical expenses"
*Data current for 2018