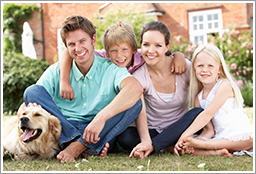 Homeowners Insurance is an important aspect of owning a home. It is a must-have product for those who wish to be protected homeowners. The insurance can, however, be very expensive. Here are some great ways to save money on your homeowner's policy:
Get a Home Security System
Home security systems are a terrific way of keeping your home and personal property safe from theft or any damage. If there is less theft or damage, there will be fewer claims. The cost of your homeowner's premium will increase each time you file a claim. Certain companies offer up to a 15-20% discount on your homeowner's premium for having a security system.
Extra Security Measures
Installing other security measures such as deadbolts and window locks can prevent theft claims. Additional protection measures such as fire, carbon monoxide, flood, and heat detectors can also help prevent natural disaster and home damage claims.
Have Good Credit
Most people don't know this, but everyone has an Insurance Score that is loosely based on their credit score. Of course, there are other factors involved in this insurance score, such as driving history, employment history, and the number of risks on the policy, but credit score is a contributing factor. The better the credit score, the lower the homeowners premium.
Bundle Your Policies
If you get multiple lines of insurance, try to bundle the coverages as a "package policy." Almost every company offers up to a 20% discount on all policies included in the package. This is the most efficient and cost effective way to purchase insurance.
Get Multiple Quotes Before Purchasing Insurance
Getting multiple quotes from different insurance companies ensures that you are paying the lowest premium for the coverage you want. This is very easy to do with an insurance agent or broker, who often represent multiple insurance companies. Brokers, like R&R Insurance Services, will quote your policy with all their companies at one time to ensure you are getting the best deal on your policies.
Be a Loyal Customer
Many companies offer discounts if you have your insurance with them for a certain number of years. This discount can be anywhere from 5-15%.
Raise Your Deductible
Deductibles are what you will pay out of pocket for any losses before your insurance company pays for the rest of a loss. This is what you pay each time you file a claim. Most policies have a standard $500 deductible, but they can range anywhere from $250-$2500. Raising your deductible can save you up to 25% on premium. It is one of the easiest ways to lower your premium.
Organization Affiliation
Some Companies will offer discounts for being associated with certain organizations, such as Employment Unions and organizations, age associated organizations, or having a certain type of credit card. Ask your insurance provider for a list of organization affiliation discounts. You may be entitled to a discount through something you are already a part of!
Hopefully with these tips you can save gr-eightly on your homeowner's policy! If you would like more information on what a homeowner's policy is, or general information on having a homeowners policy, contact a knowledge broker here at R&R Insurance.