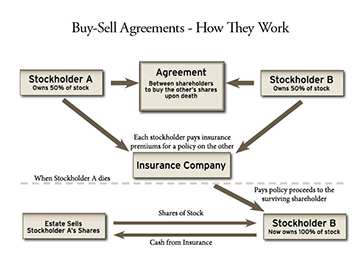 If you retired, died, or became disabled today, who would own and manage your business tomorrow? Would you want your business interest retained for a family, sold, or liquidated?
A Buy-Sell Agreement controls what happens to the company stock upon the occurrence of a triggering event such as the death, retirement, or disability of a shareholder. A Buy-Sell Agreement, which is a contractual agreement between shareholders and their corporation or between a shareholder and the other shareholders of the corporation, is the center of a business continuation plan.
There are 4 key factors to consider when creating a buy-sell agreement with your stockholders:
Type of Business (S-Corp, C-Corp, LLC, Partnership, Sole-Proprietorship)
A properly funded Buy-Sell Agreement uses life insurance as a funding vehicle to pay the deceased/disabled business owner's family their share of the business interest. Who owns this policy depends on how many business partners you have and what type of corporation you have (S-Corp, C-Corp, LLC, Partnership, Sole-Proprietorship). Setting this up incorrectly can result in additional tax issues, step-up in basis issues and can even result in the need to liquidate the business immediately whether you want to or not.
Type of Agreement - Cross Purchase vs. Entity Purchase
In a Cross Purchase Agreement, each shareholder owns the life insurance on each other shareholder. In an Entity Purchase Agreement – the life insurance funding vehicle is owned by corporation.
Value of Your Business
Your business' value is extremely important when establishing a Buy-Sell Agreement. This value should be reviewed every 3-5 years to ensure your family receives the correct amount for your interest in the business. In today's changing economy, it is important to review your current Buy-Sell Agreement regularly to ensure it is aligned with the value of your business.
Funding of Buy-Sell Agreements
Most businesses don't have enough excess cash in reserve to buy out a shareholder's spouse upon a unfortuneate demise. The life insurance is earmarked to pay (buy out) a deceased business owner's business interest, with the funds going to the family. Purchasing life insurance can be a relatively inexpensive way to fund your Buy-Sell Agreement. Knowing that the funds are available when the circumstance arises, reduces anxiety about a family's livelihood and guarantees the proper payout for a spouse.
Any business owner who hasn't had a proper valuation on their business is leaving the fate of the business and the livelihood of their family to chance. R&R offers free business valuation plans as a complimentary service to any business owner wanting more information about their business and how to ensure it's longevity, and adequate funds for their family's well-being. The service is provided by attorney resources R&R contracts with – again at no charge to you. Wisconsin businesses should contact Tom Driscoll for more information about business valuation, Buy-Sell Agreements and estate planning.