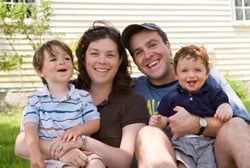 Surveys tell us that half of all American households have no life insurance other than a group policy at work. Most people say they know they need more life insurance protection for their loved ones, but haven't done anything about it. Here are the leading reasons people give for not having life insurance. Does this sound familiar?
Don't know what I need to buy.
There are no dumb questions when it comes to providing protection for your loved ones. R&R Insurance offers free advice, no obligation.
Don't think I can afford it.
High price is a common misconception about life insurance. As average life span continues to get longer, life insurance rates continue to decline. A 25-year-old male can get $250,000 of term life insurance for as little as $17 per month. Term life for a healthy 45-year-old would cost about $31 per month. A 65-year-old male could get $10,000 of final expense coverage for $49 per month. Female rates are generally even lower.
Haven't gotten around to checking into it.
Time will cost you money. Every birthday that you have without putting a policy in place will raise your rates. Basically, the younger you are, the more affordable your policies will be.
I am immortal!
Really! We hear it all the time - but reality is that none of us are. Our staff hears startling examples of totally unexpected and untimely deaths all too frequently. The best time to buy life insurance is when you are healthy, while coverage is affordable.
Some of our companies, like Auto-Owners Insurance Company, offer substantial multi-policy discounts on your homeowners and auto policy when you have your life insurance with the same company. These savings can go a long way toward paying the cost of your life insurance.
Remember, life insurance is for the ones you love. Wisconsin residents contact knowledgebroker, Dan Wolfgram today for more information or a quick life insurance quote!