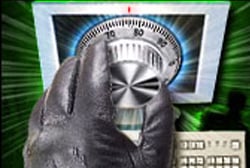 R&R Insurance announces the date for the new Cyber Liability seminar, which will cover how a business can protect itself against cyber crime, will be Wednesday, October 5, 2011, 8:00am - 11:30am, held at the MRA conference Center in Waukesha, WI.
Companies receive an average of 4 million attacks against their networks on a daily basis. Sure, companies can employ the best IT talent around, but that's no guarantee that your network won't be compromised, or that your data won't be breached. No system is 100% secure!
How can a business protect itself against a costly data breach or a business-halting compromise to their network?
Attend our free Cyber Liability Seminar. Learn this and a whole lot more...
Recent news about data breaches and losses sustained due to lack of insurance coverage for cyber crime:
UWM: 75,000 records breached!
Texas Spends $1.8 Million on Data Breach As Lawsuits Loom
WellPoint Fined $100k for Failing to Report Data Breach
Losing the War on IT Security
Sony Laid Off Employees Before Data Breach Lawsuit
RockYou Data Breach Lawsuit Moves Forward
Data breaches may lurk in office copiers and printers
Michael's Department Store Breach 4 Suspects Sought
Average cost of a corporate data breach is $7.2 million
Class slams Michaels for Data Breach

357 People Affected by Data Breach at North Carolina's Wake Forest Baptist
Nurse Accused of Accessing 2,500 Medical Records at Memorial Hospital in Colorado
Walgreens.com site exposed patients' pharmacy records to other patients?
Hospital employee and three others accused of stealing patients' identities
An unintended exposure leads to a mea culpa from an online psychiatry journal
Personal Info Stolen From Patients At DeKalb Medical
Drug, paternity test records exposed
Morgan Stanley loses 34k customer records on unencrypted CDs
Groupon loses 300,000 user details
SEGA hacked, records exposed
Eight million health records lost on NHS laptop