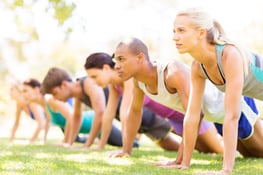 The WEA trust is bringing a proven, best-in-class wellness solution to municipalities through their League Health Plan with Vitality. Vitality is an interactive rewards based wellness program that engages its members through education and coaching to improve their health and lives. It helps members realize how lifestyle choices impact health, and how activity and exercise can enhance their lives.
A well implemented wellness plan can drive a handful of improvements for you as the employer as well. A more active and healthy workforce improves productivity and lowers risk factors that drive your health claims. Additionally, creating a wellness program provides opportunities for leadership among your employees who participate on a wellness committee, and can help brand your organization and make you an employer of choice in your community.
Here are some of the key elements of the Vitality Wellness program through WEA and the League Health Plan:
Biometric Screenings – Your employees will 'know their numbers' for blood pressure, blood sugar, cholesterol, triglycerides etc.
Vitality Health Review – This is a health risk assessment that helps bring lifestyle into the mix of your biometrics results and paints a picture of overall health.
Vitality Bucks – Employees earn points for the Biometric Screening, the Health Review, and also for tracking activities through a phone, smart watch or pedometer. Earning bucks allows you to buy rewards like movie passes, make charitable donations, gift cards. Points do not expire!
Goal Setting – Vitality will set goals for activities like steps per day, workouts per week and provides motivation to improve results of the health screening. These goals are attached to bucks, so the more you participate the more you can gifts you can purchase.
Coaching – Vitality provides health content, articles and provides goals for improving the health of your whole organization
There are two levels of the program available. Activate is the base level, and Elevate is a 'buy up' option that includes more involvement with spouses, higher levels of engagement with the program and some additional resources to help you build your wellness platform.
If you have any questions or would like to discuss how this wellness plan can be implemented into your organization, contact me. We have our own Certified Wellness Specialist on staff, and I would be happy to help you improve the lives and health of your employees!