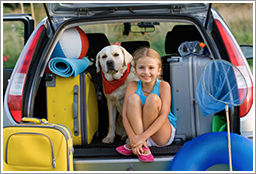 When going on a long road trip, your car will suffer some inevitable wear and tear. Before leaving, it's important to prep your car by doing the following:
Check your tires for air pressure, tread, and general wear down. Tires are the most common cause of vehicle failure. While you can't do anything about getting a flat tire, you can make sure your tires are safe to drive on. Have your mechanic check to see if your tires need to be balanced or rotated as well.
Check your brakes. Take note of when the manufacturer recommends getting the brake pads changed. Also have your mechanic check out your brake fluid. If it needs to be changed, be sure to get the brake line flushed, cleaned and filled with new fluid.
Get your suspension checked out. Shocks and struts can be expensive, but if you need new ones you will definitely feel the difference in your trip!
The second most popular cause of vehicular failure is the cooling system. Having this inspected and cleaned will not only identify any leaky or weakened hoses, it is also a very inexpensive type of maintenance.
You should definitely be having a mechanic look under the hood of your car before you go on a long road trip. Items to inspect include:

Your transmission. This is a serious and expensive part of your car, and can be very time consuming to get fixed. You don't want to spend your vacation in the waiting room of a mechanic!
Check all belts for wear and tear. Failed belts are at best an inconvenience and could stop your entire road trip.
The exhaust system should also be checked out. If there are any leaks or holes in the system, it could be putting you and your passengers at risk.
Finally, you should do any routine maintenance that you may have been putting off. Oil changes, filling the windshield washer fluid, and replacing the windshield wipers are all important aspects of your car that you may need during your trip.
Hopefully this list will help you prepare for your Spring Break extravaganza. Have a safe trip!