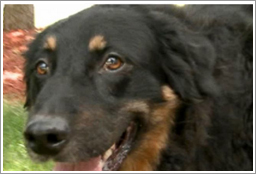 You may have seen the news story on June 30, 2014 about a Stevens Point woman who lost her wedding ring five or six years ago. She searched everywhere, but could not find it.
Last week the woman's granddaughter was eating a popsicle when the dog stole and ate it. The dog coughed up the popsicle stick shortly afterwards. Two days later the dog started coughing up again and threw up the wedding ring that had been missing for the last 6 years. The veterinarian believes that the stick dislodged the ring from the dog's stomach.
Other than being an interesting story that captured some national headlines, the whole incident brings up some insurance issues:
First, the woman comments that six years ago she had just upgraded the ring and had failed to insure it. This highlights the importance of obtaining a personal articles floater to cover valuable items.
Secondly, let's assume that she had insured the ring and the insurance company paid her for the loss six years ago. Now that the ring has been recovered, what should the woman do?
Most policies are very clear: she must report the ring's recovery to the insurance company that paid for the loss. The insurance company owns the salvage value of the recovered ring.
Nearly every property insurance policy, whether it is Homeowners, Business Property, Inland Marine, commercial or personal automobile policy, has a Recovered Property Condition in some form.
The Recovered Property Condition states that if either you, or your insurance company, recover the property after a loss settlement, then you must promptly notify the other party.
You have the option of retaining the recovered property. However, you must return payment to your insurance carrier. The insurance company will pay for recovery expenses and the expenses to repair the property subject to the Limit of Insurance.
If you decide that you do not want the recovered property, then your insurance company will sell the property to recoup some of the loss.
Over my years of handling claims, I have seen this process play out with recovered jewelry, stolen bikes, cars, and construction equipment.
Luckily, this story had a happy ending even though the woman had an extensive cleaning job to do.
Related articles: