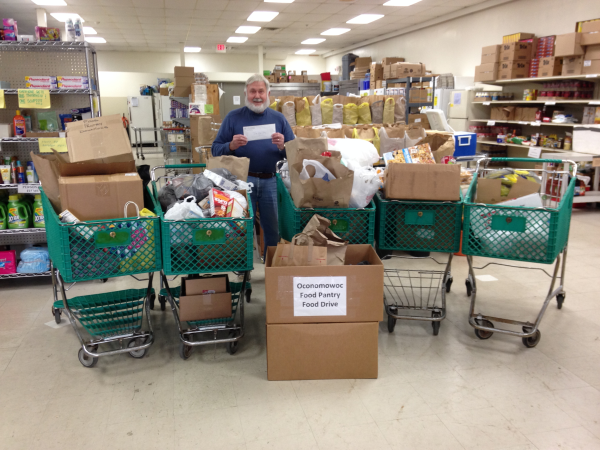 Oconomowoc, WI – Snyder Insurance Agency, a division of R&R Insurance Services, Inc. has once again hosted the annual "True Blue Challenge" to area businesses this year. The "True Blue Challenge" invitation is sent out each year in early November and challenges local employers and businesses to allow their employees to wear blue jeans to work in exchange for a monetary or food donation to benefit the Oconomowoc Food Pantry.
This "True Blue Challenge" is timed to boost the Food Pantry's shelves before the big rush for the holidays, which the Food Pantry experiences each year at this time. Local businesses arose to the occasion again, donating non-perishable food items and monetary donations. Each business makes this event their own, coming up with their own competitions and ideas on how to engage their employees and clients to join in on the spirit of giving.
Pictured above is Bill Jackson of the Oconomowoc Food Pantry, with just some of the donations collected from the 2014 event.
A great big THANK YOU goes out to this year's participants who made the 2014 "True Blue Challenge" a success:
City of Oconomowoc
MSI General
First Bank Financial Centre
Ixonia Bank
Shorehaven/Lutheran Homes
Lake Area Free Clinic
Silgan Containers (2 locations)
Sweet P's Pantry
Roehl Corporation
Oliver Construction
Dousman Family Dentistry
Snyder Insurance, a division of R&R Insurance Services
R&R Insurance Services, Inc. has served the insurance needs of southeastern Wisconsin since 1975. Today, R&R is Wisconsin's largest singly owned independent insurance agency offering businesses and individuals a full range of insurance products including property casualty, employee benefits, workers compensation, liability, life, dental and home/auto. R&R is also a shareholder with Assurex Global, a worldwide network of leading independent insurance agencies.