With the numerous baseball fans at R&R, employees share their favorite baseball memories.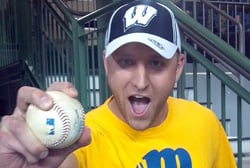 Knowledgebroker Chris Kopp loves the Milwaukee Brewers and was featured in an OnMilwaukee article because of his lucky catch. He was attending the Brewer's game on June 6th in which Taylor Green was rounding the bases for his first Major League home run. He was in just the right place in Miller Park because the home-run ball came so fast at Kopp he didn't have time to react.
So what happens when you catch such a momentous ball? The key is getting the ball back to the player before it gets lost or stolen. Usually, the player likes to have the ball back as a keepsake so stadium staff needs to locate the fan and start negotiations.
"I knew I wanted him to have it, without a doubt," Kopp said of the ball. "What it means to him is so much more. I'd rather have him keep it."
Kopp's only negotiation was to hand the ball to Green himself; although he also walked away with a signed bat. "He's a great guy," Green said of Kopp. "I really appreciate him giving it back to me. I'd have never done it before, so I didn't know [how he'd be]. You've heard stories but I've never been a part of anything like that. I haven't been around for too many first home runs in the big leagues. You don't really do that in the minors. I figured if I caught a ball I wouldn't ask for anything but I'd want something, so I figured that would be the easiest way to go."
"For Taylor to go out and get me a bat on his own and to even think to sign it, that was just great on his part," Kopp said. "That's something I'm going to keep. That's never going to be on eBay or in anybody else's hands. What he did there was create something super special for me that I can have forever and cherish just like he can cherish that ball. That was just incredible."
Kopp's attitude had an effect on all parties involved and we are proud to have him as a knowledgebroker. To congratulate him on this once-in-a-lifetime experience, contact Chris Kopp.