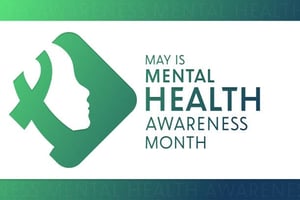 May is Mental Health Awareness Month. Mental Health continues to be a popular topic and top concern for workplaces in 2022. Over 30% of employers have added new mental health benefits within the past year, according to McKinsey and Company. Surprisingly, despite the increased efforts, nearly 25% of employees still do not feel supported when it comes to their mental health.
"40% of U.S. adults said they have struggled with mental health or substance abuse during the pandemic."
With all of this in mind, employers need to evaluate their mental health strategies and consider how they can best help maximize their employees' overall well-being. To get a jump-start on this, employers can consider these five trends for 2022 that may influence employees' mental health.
More Mental Health Programs
Increased Scheduling Flexibility
Expanded Virtual Doctor Visits
Greater Mental Health Education
Improved Focus on Individuals
Mental health is a serious concern for employees and their employers. Not addressing mental health issues can result to a host of other problems down the road, including burnout and depression. For more in-depth information on implementing the five trends listed above, click here. We have also included a few additional resources below.
5 Ways to Support Your Employee's Mental Health [blog]
Wellness Mental Health Resources – Train Your Brain Into Positive Self-Talk [blog]
Effects of Stress on the Body [interactive flyer]