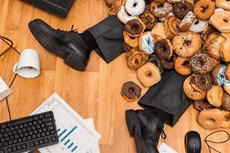 Majority of people have most likely heard of the Freshman 15. Young adults go off to college and the new environment change causes stress and unhealthy habits to develop which contributes to weight gain. A new trend during quarantine has been labeled the COVID-15; with a lack of socialization, food directly in sight and boredom on the mind, many have found themselves gaining a few extra pounds.
"In a poll of more than 1,000 U.S. readers of WebMD, half of women and almost one-quarter of men have reported weight gain since COVID."
Even social media has been trending with taglines of weight gain, over-consumption of alcohol and poor nutritional choices. Unfortunately, those who struggled with weight issues, eating habits and socialization before now possess extra risk. So what can you do to take action against the COVID-15?
Change your focus from frustration to optimism
Adjust your environment by creating an office setting away from the couch and kitchen
Try a new health meal or snack such as apples and almond butter or pretzels and hummus
Skip the alcohol or soda and try sparkling water
Shop smarter by making a detailed list, limit impulse buys, plan a week of meals ahead of time
Get active outside by walking, hiking, running, etc.
Seek help from a dietician, counselor or family when necessary
Look for the silver lining during these times and take healthy action in your life. Starting with the steps above will help you get right back on track.