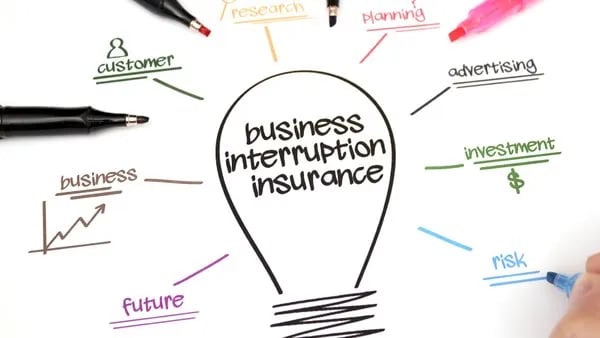 Also commonly referred to as "business interruption insurance", business income insurance covers lost income when your business must shut down due to a covered loss: fire, theft, wind. Many business owners fail to think about how they would manage if a fire or other disaster damaged their business so they were temporarily out of work. A few simple calculations can provide the information needed to purchase the proper coverage for an unforeseen loss.
Business Income protection is not like a $1,000 auto deductible. The impact of BI is extremely important on the business. A number of companies are out of business in 12-18mn due to a loss. Many of these companies do not survive due to the financial loss incurred.We ask our customers: How was your BI coverage determined? "Well, a while ago we had some formula..." or "I have never filled out a Business Income worksheet..."
Many people think "oh no, the dreaded BI worksheet!" But it doesn't need to be. Many of our insurance company partners have a simple online application that will provide a single page summary. We also have in-house experts that can help you identify the data needed and walk you through the process of completing the worksheet.
Basic Business Income Worksheet Data Points
Business Income coverage includes, but is not limited to:
Gross revenue minus non-continuing expense
Cost of materials
Ordinary payroll
Coverage for anticipated duration of loss
Extra-expense limit
90% of the time "agreed amount" is missed. Why is the agreed amount so important? It waives the coinsurance clause on the specified property. As long as this endorsement is in effect, there would be no coinsurance penalty at the time of a claim.
Additional Consideration to Business Income Coverage: Extended Indemnity
Business Income coverage ends once a business is back to operating. However for many companies, they are not operating at 100% on Day 1. Extended Indemnity will provide extra buffer until fully operating.
For example: after a business has been down for 6 months and they're able to begin operating but at 20%, the Business Income coverage ceases. In steps Extended Indemnity to help cover the non-operating 80% until the business is fully up and running again at 100%. Depending on the insurance company, this extra buffer range from 30 days, 90 days, 365 days, or beyond.
You've worked hard for all that you have. Be sure to reduce your risk and protect your lost income due to unforeseen losses.