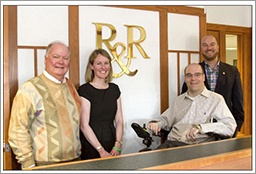 Business Insurance® named R&R Insurance Services, Inc. as one of the Best Places to Work in Insurance for 2015.
According to Business Insurance®, the award is based on a two-part assessment of the company. The first portion includes a questionnaire completed by the employer about company policies, practices and demographics. The second portion is a confidential employee survey on engagement and satisfaction. Companies recognized fall into three categories — large employer, medium employer and small employer — in the industry segments of benefits brokers and consultants, claims managers, group life/health insurers, property/casualty insurers, retail agents/brokers, reinsurance brokers, reinsurers and wholesale brokers/managing general agents.
At R&R, the employees feel strongly about their workplace, including Human Resources Director Nora Hauser.
"The energy at R&R Insurance Services is palpable," Hauser said. "The people here make all the difference in ensuring that this company is one of the best places to work."
Business Insurance® is dedicated to honoring employers that have created an environment in which people thrive and enjoy their work. This award proves that R&R has not only served the insurance needs of southeastern Wisconsin, but also the needs of their employees in creating a great workplace.
Click here to learn more about the current Career Opportunities at R&R.