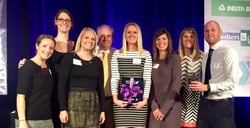 The Milwaukee Business Journal recently named R&R Insurance Services a winner of their Healthiest Employer Award.
"Being healthy and promoting wellness has become part of our daily activity," said Don Levings of R&R. "This is a tremendous accomplishment and we look forward to expanding our wellness program in the future."
This year there were 33 winners in small, medium and large categories based on number of employees, and R&R was a proud 1st place winner for medium sized businesses. Winners were selected through the assistance of Milwaukee Business Journal partner Healthiest Employers LLC, of Indianapolis, which required nominees to complete a 75-question survey.
The winners were honored at an awards luncheon on Oct. 23 at The Pfister Hotel in Milwaukee and featured in the Milwaukee Business Journal's October issue.
Click here to read the full article.