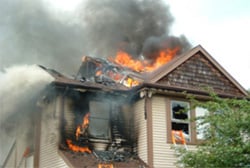 Chances are, if you've had a total loss on your home due to a fire or storm, you're going to need to replace it. Hopefully you had Replacement Cost coverage on your homeowners policy.
If you are going through the rebuilding process and wonder why the rebuilding costs are 30-40% higher than new construction, here are 9 reasons that explain why it could be higher.
Extensive planning and matching of labor and materials required to build around an existing structure with partial losses.
Contractors specializing in reconstruction and restoration charge more for their expertise.
The use of hand tools, such as wheelbarrows and dollies rather than heavy equipment due to limited access created by surrounding buildings and landscaping.
The increased cost of dwelling reconstruction is comparable to rebuilding an automobile part by part. The labor and materials are more expensive when building a single home versus a tract home. The labor and materials for rebuilding an automobile part by part are more expensive than a mass produced car.
Labor and material shortagesdue to supply and demand, especially in the aftermath of a catastrophe. Good examples are the fires in northern California some years back, and some of the recent tornadoes in Wisconsin.
Older home construction such as plaster walls and custom woodwork. It's often difficult to even find craftsmen that still do this type of work.
Rebuilding to code. The requirements and expenses associated with updating the structure to meet current building ordinances. For example, new electrical codes often are stricter and will require heavier wiring and additional electrical services. All municipalities will do inspections.
Demolition and debris removal. While new home construction normally begins on open site with perhaps some brush removal and grading, rebuilding begins with a partially or totally destroyed structure occupying a building site with trees, plantings, driveways, sidewalks and other structures that have to worked around. Imagine the cost and extent of debris removal after a major fire or a tornado.
Economy of scale. When contractors have many homes under construction at once, materials can be purchased in large quantities and work can be scheduled for the most efficient use of carpenters, plumbers, electricians, and other tradesmen.
If you are a homeowner and don't have Replacement Cost coverage on your homeowners policy, here's why you should have it.
Wisconsin residents: Contact a knowledge broker at R&R Insurance today about insuring your home for it's true replacement cost.