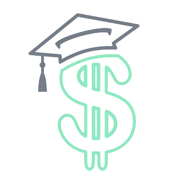 Combined with rising tuition costs, more people are attending college than ever before. Sixty-one percent of millennials have attended college compared to forty-six percent of baby boomers. The class of 2017 graduated with an average of $39,500 in student debt! In recent years, some employers have begun offering student loan repayment help.

Millennials entered the job market after the recession which has resulted in fewer job opportunities. Of those job opportunities, many have had to accept jobs at lower starting salaries. With millennials making up the majority of the workforce, businesses must alter their tactics in order to stay ahead as many new graduates are seeking companies that offer non-traditional benefits like student loan repayment assistance.

According to a study by Iontuition, 80% of individuals would like to work for a company that offers student loan repayment assistance with a matching opportunity.
Right now, only 3% of employers offer student loan aid according to the Society for Human Resources Management. But the interest in this millennial benefit is definitely growing among employers.

While it can seem like all of the benefit is for the employee, there are benefits the employer can reap as well. By offering a non-traditional benefit, such as student loan repayment, you will have something that can boost your recruitment and retention strategies.

To learn more about the future of offering a student loan repayment program and the benefits to both employees and employers, click here.

If you have further questions, please contact a KnowledgeBroker today!