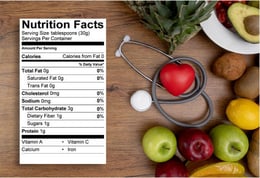 March is National Nutrition Month; the purpose of this theme is to help the public remember the importance of good nutrition and a healthy eating plan. Understanding food labels is the key to leading a healthy lifestyle. It is good to keep the following aspects in mind when shopping and consuming to have the most beneficial impact on your lifestyle:
Food labels provide key information such as serving size, calories, total fat, saturated fat, cholesterol, protein, carbohydrates, and vitamin content.
Food labels also contain the list of essential ingredients that may be crucial to utilize if you follow a diet or have food restrictions.
They can help you cut back on a certain component such as knowing the acceptable amount of sodium or sugar to not exceed for a day.
They can also help keep you safe with the storage and cooking instructions they provide and detect ingredients that could cause a harmful reaction.
Food labels can also aid in helping support local food producers based on the food's origin.
For more information about serving size, calories, percent daily values, and nutrients as well as how to get the most out of your food labels, click here. Feel free to share this infographic with anyone else who would value the information.