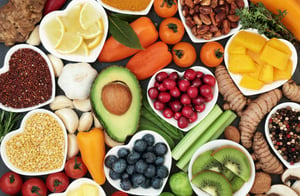 Eating a well-balanced diet is the key to maintaining a healthy body. Improving your diet, in fact, could help you live longer and reduce the chances of developing costly chronic diseases such as heart disease, stroke and diabetes.

The Academy of Nutrition and Dietetics encourages everyone to eat healthy. This includes the foods that you might eat at work. "Healthful eating habits shouldn't stop once you get to work," says registered dietitian nutritionist Jennifer Bruning.

Nearly 25% of employed adults consume foods and beverages at work at least once a week—items that often are high in calories and include refined grains, sugars and sodium, according to a study by the Center for Disease Control and Prevention (CDC) in 2019.

Below are a few tips for a healthier lifestyle:
Plan out your meals ahead of time
Bring your own lunch to work
Eat the rainbow of fruits and vegetables
Stick to correct portion sizes
Carry a water bottle with you
Small changes can lead to improved health benefits!

For more information on how to maintain a healthier lifestyle, read here.