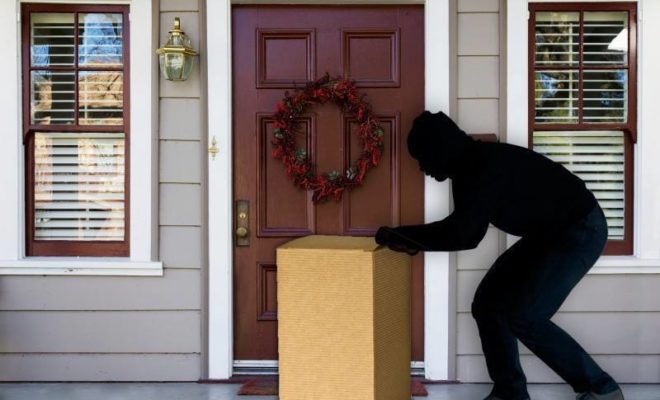 This holiday season, you may find that online shopping is a convenient way to check items off your list. While shopping from the comfort of your couch has its benefits, have you considered the risks involved with having a package delivered to your front door? Package thieves, sometimes referred to as "package pirates", are stealing millions of packages every year. According to a study done by C+R Research, 31% of individuals had a package stolen last holiday season. On average, stolen packages can be an expensive loss. According to a study by Ring last year, the median value of a stolen package was about $250. With the Holiday season among us and online shopping on the rise, you and your family may want to discuss some options to keep your gifts and deliveries safe. Here are a few tips for how to prevent a package theft from happening at your door step.
Outdoor Security Camera

Installing a camera at your front door is a great way to provide piece of mind, and can deter a thief from attempting to steal your package. Doorbell camera systems such as Nest and Ring are user-friendly and easy to install. These home security systems will allow you to view a live stream of your home from your personal smart phone, so you always know who is knocking at your door. Most doorbell camera systems will notify you when activity is detected, so you'll know exactly when your item is delivered (even if they don't ring the doorbell!). Use this function to prevent a package theft by stopping at home to bring your item inside, or even teaming up with neighbors by asking them to hold your package temporarily.

Ship to Work or to Friend/Family's Home

For some individuals, stopping at home in the middle of the day might not be an option. A great alternative is to have your item shipped to your workplace. Speak to your manager and see what your company policy is- most employers understand that you spend most of your time at work therefore it may be acceptable to receive deliveries there. Sometimes workspace is limited though, so brainstorm people you know that are usually home during the day. Family members who are retired or friends that work from home would be great people to reach out to! The more the merrier when it comes to preventing package theft in our community.

Amazon Hub Locker or In-Store Pick Up

If you are shopping on Amazon, there is now an option to ship packages under 20lbs to an Amazon Hub location. Instead of having your package shipped to a home or business, you can select a "Pickup Point" in your area and have your item shipped to a secured locker kiosk. These Kiosks are located in more than 900 cities and towns across the US! You can use an easy online locator tool to find one near you. They tend to be at neighborhood grocery stores, banks, pharmacy and other easy to access locations. You will receive an email when your item is delivered, and you must pick it up within 3 days of delivery. When you arrive for pick up, just enter your unique pick up code, retrieve your item from the locker, and you are good to go!

Alternatively, if you are shopping at an online retailer other than Amazon, check to see if there is an "in store pick up" option. Insider tip: call the store directly if you do not see a "ship to store" option online. Often times, stores will offer free shipping when you ship to their location!
Online shopping has become a common part of our lives, and its safe to say its here to stay. That being said, porch theft has become all too common as well. Being aware of the risk is the first step to protecting your deliveries. Taking a few moments to consider the above tips may save you from being a part of the staggering porch theft statistic. We hope that these tips were helpful, and wish you have a very happy Holiday season!