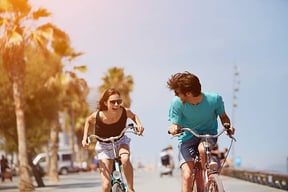 The summer season presents endless possibilities for enjoying the great outdoors and exploring new activities. Regardless of your age, engaging in physical activity can have numerous benefits for your overall wellbeing, both physically and mentally. Exercising in nature is particularly effective in enhancing mood, reducing stress levels, and alleviating symptoms of depression.
Summertime is the ideal time to explore new activities that not only get your heart pumping but also allow you to enjoy the warmth and sunshine. However, it's important to be cautious of the hot and humid weather, as it can increase the risk of heat-related illnesses. By taking appropriate precautions, you can ensure that your summer activities are both safe and enjoyable.
To discover a wealth of information, including a variety of exciting activities to try and valuable tips for staying safe during the summer season, delve into the following article.
Reach out to our own Strategic Wellbeing Consultant, Taylor Hahn, to discuss next steps as many of our other employer groups have found this to be a successful approach.