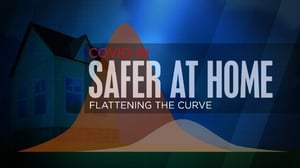 With the stay-at-home order in effect until May 26th in Wisconsin, it is important to stay safe while running essential errands. If you must visit essential businesses such as the grocery store, pharmacy, or bank there are guidelines you can follow to remain healthy and limit your exposure risk.
First and foremost, if you feel ill always stay home. Otherwise, please follow these precautions from the Centers for Disease Control and Prevention (CDC):
Order online or curbside pick for your items (if applicable) to limit in-person contact.
If items cannot be ordered online, wear a cloth mask in public. Make sure it rests above your nose and covers your entire mouth.
Disinfect high touch surfaces and items such as shopping cart, car steering wheel, purse, keys, etc.
Avoid visiting the businesses at 'rush hour' times and utilize contact-less pay.
Apply hand sanitizer with at least 60% alcohol and wash hands immediately upon returning home.
Avoid touching your eyes, nose, and mouth.
If you are feeling stir-crazy, lonely or isolated there are still ways to help your community and provide safe social interaction. Consider donating blood, especially since supply is low. Blood donation is an essential service and proper health and safety precautions have been taken by blood centers.
You could support a local food pantry by donating items to fill their shelves. Many families are suffering from unemployment and rely on donations to support their family's next meal. Last but not least, don't forget to practice self-care by eating well, exercising and obtaining 7-8 hours of adequate sleep. Stress levels may be heightened, but don't forget to do things that will help you have a sound mind and body.
All in all, it is important to remain safe and healthy, so if you have to go out, please use these precautions accordingly.