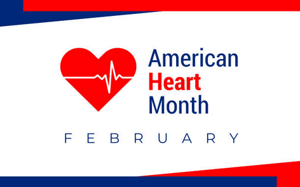 February is recognized as American Heart Health Month. Your heart is one of the hardest-working muscles in your body and all of that work can take a toll. Not treating your body right can escalate your risk for serious health issues, like heart disease.
Heart Disease is one of the leading killers in the United States for both men and women, accounting for 1 in 4 deaths annually. That is about 647,000 deaths a year according to the Centers for Disease Control and Prevention (CDC).
Key ways you can help prevent heart disease:
Eat foods that are low saturated fat, trans fat, and sodium
Get at least 2.5 hours of moderate-intensity aerobic activity every week. Click here for three suggested workouts to improve heart health
Keep an eye on your cholesterol
Reduce your stress levels
Avoid smoking and excessive alcohol consumption
While in many cases heart disease can be prevented, there are certain uncontrollable factors that increase your risk, including age, as well as sex and family history. For more in-depth information on heart disease and prevention, read more here, and always consult with your doctor.
To learn more about how you can help spread awareness within your community, click here.
Top three ingredients for a Healthy Heart:
Olive oil - "4 or more tablespoons per day can lower your risk of heart disease". Always make sure your extra virgin olive oil is labeled (EVOOs) and check out your local farmer's market for the best bargain.
Whole grains - Always check for the whole grain stamp of approval. There are specific guidelines for a product to produce that label. Whole grains include items such as quinoa, oats, barley, ect. Try replacing one of your refried grains, such as white rice, with a whole grain.
Seasonings - Stop using excess salt, pre-packaged seasoning, and pre-packaged dressing. Instead, consider other options such as dry mustard, hot peppers, or citrus juice.
For a more in depth look on how to help keep your heart healthy, read here.
Source: https://engagementsource.go365.com/en/health-and-wellness-library/nutrition-and-weight-management/three-best-ingredients-for-a-healthy-heart