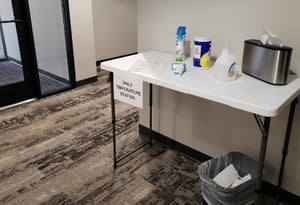 COVID-19 is certainly challenging businesses on "best practices" these days. One of the newest recommendations for businesses that remain open and/or are planning to re-open soon is for employees to take their temperature upon entering the building each day. (It's something we at R&R Insurance are doing as well - see photo to the right)
Is it ok to monitor employees' temperatures? If so, how should it be done?
Monitoring of temperature is a practice in alignment with EEOC and CDC guidance for pandemic outbreaks.
If your business is a low or medium level of risk for exposure to COVID-19 according to OSHA, employee self-monitoring is an acceptable risk practice.
Be mindful of where and how to set up a self-monitoring temperature station. For employer monitoring station use a no touch, NO CONTACT THERMOMETER. At time of rollout, explain to employees the safety procedures and policy if temperature is outside of normal range. Employees will appreciate their organization's practice of maintaining a safe work environment.
If a designated employee is responsible for monitoring other employees they will be within the 6 ft. physical distance zone so Personal Protective Equipment - PPE gloves, face cover, and eyes is necessary.
Resources:
Information for development of your business practices/educate employees CDC Care Kit and CDC Stop The Spread of COVID-19 If You Are Sick
Contact R&R Insurance Services if you


Would like to discuss alternate strategies
Need clarification on using the right PPE
Looking for a Body Temp log and instruction
Additional questions about your business situation and COVID-19