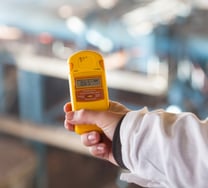 Back in the day, many national insurance companies had their own industrial hygiene departments and/or specialists - some even had their own laboratories! It was widely perceived to be a competitive advantage. However over time, the cost started to outweigh the value of services. From the travel to the perceived value of the surveys to results, industrial hygiene screenings became highly scrutinized.
Fast forward to today and there are (3) potential avenues for industrial hygiene testing:
Select insurance companies continue to perform surveys for select situations, generally at no cost to the policyholder

R&R Insurance can assist for often less cost than the insurance company

Quarterly, R&R rents 5 dosimeters and will conduct full day noise surveys for customers at no cost. We also can borrow air testing pumps from the State of Wisconsin at no cost with the customer paying for the lab fees charged by the State to analyze the media used.

3rd party companies specializing in industrial hygiene

Contact us for recommended vendors

Services begin at $2,500
No matter the method, be cautious that costs can rise very quickly. From the number of spaces being tested to the frequency & length of time testing; there is definite process of screening, testing, and resolving the issue(s).
I think we may need industrial hygiene testing - where do I start?
Start by asking a few questions:
Why is there a concern?

Have there been employee complaint (s)?

Is there an odor issue?

Do you just want to know?

Has there been any previous testing?

Be prepared to have your Safety Data Sheets (SDS) for the chemical(s) in question - it can help us do front-end evaluation and will be required for anyone doing testing
Testing is just the beginning of the "process". If levels come back over OSHA limits, the work is just starting! Things like increased ventilation and/or redesigned ventilation could be a suggested solution. This is a true science and one that would expand beyond industrial hygiene specialists.
"Industrial hygiene: is the science of protecting and enhancing the health and safety of people at work and in their communities. Health and safety hazards cover a wide range of chemical, physical, biological and ergonomic stressors."
Contact your KnowledgeBroker to discuss if a survey is right for you.