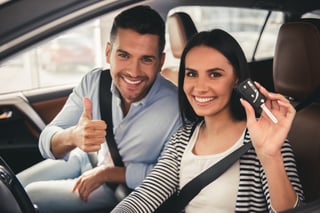 Buying a new car doesn't happen all too often, so it's likely your "What to Do Before I Leave the Lot" list isn't top of mind. It's also common to be picking up your new car on a weeknight or weekend - when your insurance agency is closed. Below is a quick reminder of what to keep in mind when buying a new car.
Bring the following items with you:
Checkbook
Title on the vehicle you may be trading
Insurance ID card on a currently insured vehicle
Most importantly - are you covered to drive this new vehicle home?
Generally speaking, most auto policies will give you coverage on a newly acquired vehicle to get the vehicle home and contact your agent as soon as possible.
At a minimum, you would have 4 days of comprehensive and collision coverage @ $500 deductible (no physical damage coverage currently on policy) as well as liability coverages.
The physical damage coverages are expanded to 14 days if comprehensive and collision coverages are currently on the auto policy. Liability coverages would also follow.
If possible, always contact your insurance agency before you visit the dealership.
We won't need much time to get your new vehicle added to the policy and have you safely on the road. Here are the quick items we'll discuss:
Vehicle Identification Number (VIN)
Lien / Lease – name and address, if applicable
We can offer GAP coverage on your loan or lease
Car Damage Replacement coverage may be available
List of safety features on vehicle for possible discounts
Still have questions? As always, your R&R Insurance Knowledge Broker is here to assist!