I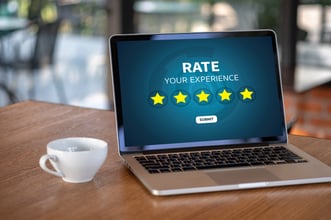 don't know how many of you like online reviews—I know I do. A huge benefit of the internet is having so many businesses available to research and review with just the click of a mouse. Everything from contractors and restaurants, to vacation destinations and new cars. You name it…you can find it. Years ago, the only thing you could rely on was word of mouth or a good referral from a friend or relative.
At R&R Insurance, we're proud to say our best source of new business clients still comes from our customer referrals. We can't thank you enough for those, and want to you know that we take pride in assisting everyone that we work with.
Recently, we had prospective clients question why we would place them with a certain insurance company. (For those of you who don't know, R&R Insurance is an independent agency. This means, unlike companies like State Farm, American Family, Allstate, etc., we represent many insurance companies. It's not a one size fits all proposition.) The family was concerned that with the hundreds of reviews on this particular insurance company, not 100% of them were positive. I've always felt that negative reviews on an insurance company were a reflection on not only the insurance company, but the insurance agent and yes, the client. Let me explain why I say all three.
The insurance company should absolutely be at the top of the list here. Whatever scenario occurs (positive or negative), if a client feels compelled enough to tell the world about it, it's important and should be addressed accordingly by the company. However, insurance by its very nature is a legal contract between the insured and the insurance company. Not every claim that transpires, or every billing transaction that is processed can be guaranteed to go the way a client hopes.
Second, the insurance agent / agency needs to be held accountable as well. As an agent, they should be communicating to their insured on a very regular basis to minimize the possibility of surprises or unknowns. For example, we follow-up on all of our home & auto claims within 48 hours just to make sure things are going the way we think they should. And if something is not covered, we try our best to be direct with our clients from the very beginning – explaining the situation, talking through possible outcomes, and providing solutions.
Lastly, are clients. While R&R and our carrier partners value being held to high standards, there are instances when clients have an expectation that is unfortunately unrealistic. And as many of us know from experience, accidents with our personal property can be incredibly emotional and cause a heightened sense of both positive and negative feelings. However, even in those cases, a great agency should be able to clearly explain what happened so their client feels more comfortable with the end result.
So, quite honestly online reviews are awesome! And we live in world where they are readily available and should assist us in the decision making process. But, if you do read an unfavorable review, please take a moment to consider if you have all the information needed to make the very best decision for you and your family. And before you pull the trigger to make a change, make sure you are comfortable with the business you are working with. If you feel like the relationship is strong and they listen to your needs, then you will be off to a great start.