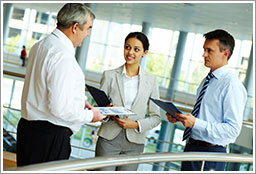 Management liability is defined as insurance that covers exposures faced by directors, officers, managers, and business entities that arise from governance, finance, benefits, and management activities (also called "executive liability insurance"). It can be compared to a malpractice policy for management.
Directors & Officers Liability (Managerial Malpractice)
Protects Corporate Governance
Protects management Decision Making
Employment Practices Liability (Human Resources Malpractice)
Protects those who manage people
Protects Hiring/Firing/Promotion Exposures
Fiduciary Liability (Employee Benefits Malpractice)
Protects ERISA Liability exposures
Protects Benefits Administration Exposures
Protects discretionary judgment of managers
Contact a Knowledge Broker at R&R Insurance to learn more about Management Liability and how it can protect your business.